Introducing the PUPPY.COM.MY Premium Membership Card, a card that extend a lot of benefits Premium Members.

Through out the years, Puppy.com.my has grown and online usage has increased tremendously. Your subscription of the Premium Membership will definitely help us with valuable funds that will enable us to continue to maintain and develop this popular web site.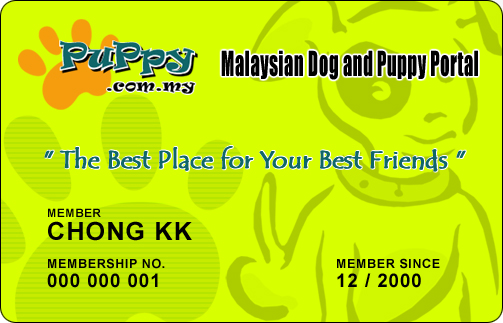 The Benefits for Puppy.com.my Premium Membership are :-
Priority Registration for all future Puppycom Events.

30% Discount on Litter Advertisement

Enjoy Discount of RM 50.00 per Dog Obedience and Agility Training Course

Enjoy Additional Benefits on Resort Stay for Dog that we organize annually

Enjoy Discount of 15% on all Purina ProPlan Dog Food purchase from us at Taman Desa Training Centre

300MB of Server Space on Photo Gallery

Regular Notifications
More benefits to be announced from time to time.

The annual membership fee for the PUPPY.COM.MY's Premium Membership is only RM 50.00.

Your can apply for Puppycom Premium Membership online by using the form below and pay using PayPal in USD:-
Alternatively, just download the form below , fill up and fax (+603.42978254) it to us or mail to Puppy.com.my with your payment.
Payment to be made in favour of Hileytech Sdn Bhd

Address :-
Puppy.com.my
c/o Hileytech Sdn Bhd
10-1 Jalan Perubatan 2, Pandan Indah
55100 Kuala Lumpur, Malaysia.