Zoe
Novice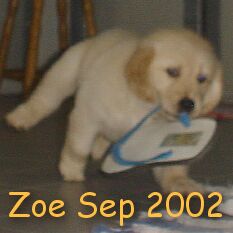 Jan 14, 2004, 10:40 AM

Post #14 of 45 (20160 views)
Shortcut

Re: [comel23] Qualified Vet to do Hip Score [In reply to]
Can't Post

---
Hi all,

Thanx for the concern.

I understand that surgery in Msia will just alleviate the pain and will still walk funny. And yes, ball-socket repair in Aust (the nearest place) is v costly. And no! 'Better to get another dog' is not an option.

Zoe is only showing HD symptoms on just one leg. Most probably due to a nasty accident when v tiny (6 wks old). She walks ducky but when she increases speed, she'll just jump slightly (as if to adjust her ball joint) and then trots like a normal dog. This is after taking supplements.

Yes, Zoe's on Glucosamine HCL (not sulphate) daily, since 6-mth old. We have like 3 yrs supply of it. No Cosequin tho (my vet carries it). Several brands, most with shark cartilage & sea cucumber. And we watch her weight real carefully. No rough play. Normal jumping up car back seats & sofa and climbing stairs once, twice a day. Before Glucosamine, she's reluctant to do all these.

She hasnt been x-rayed yet. I just dont see any point right now. What can the x-ray do except to confirm things which we've already assume and is taking action?

She still does bound around when out for walks but not too much - no leash, she'll rather correct her bad leg and trot along. I'll still carry her leash just in case a confrontation situation happens along.

We also carpet up some areas of the house and always play with her there.

We're still hoping that she'll recover her bad leg given time but we're prepared for if she doesnt.

Our regards to all.