meyueli
Novice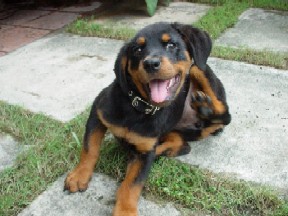 Apr 26, 2009, 11:59 PM

Post #1 of 2 (687 views)
Shortcut

Boarding places for Rotties/GSD/Doberman type of breeds?
Can't Post

---
Hi to all large breed dog owners,

I own a Female Rottweiler. Not sure if you guys have encountered this same problem as me - everytime I look around for dog boarding place for my girl, I get the same reply... "eiyer, no lah, we don't accept Rottweilers"

I have noticed that most places only accept small toy dogs, or medium breeds the most.

So my question is: Where do you take you Rottie/GSD/Doberman for boarding when you need to leave town?

I called a few places recently (not sure if I can name the names of the boarding places) and I got the same replies from all: "We don't take breeds like Rottweilers, German Shepherds or Dobermans."

Talk about stereotyping the breeds! Humph!