nicky_spykeaz
Doggyman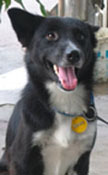 Nov 19, 2005, 10:26 PM

Post #83 of 83 (5417 views)
Shortcut

Re: [apex] Cancelling of Jungle Trekking on Aug 13th, 2005 [In reply to]
Can't Post

---
Hi All,

Any more JT's happenin'? Have missed quite a number of it already cuz quite busy and when I checked the forum, seems like none happenin since August period.

Any plans for a trek this saturday? Cheers


Cheers ya,

Nicki the Devil live by the reputation of the name



boBby is a craz3 car PassaNger
Fat FaT other case Elegant Car GuEst
What make Me?
A LoYal huMan Driver....



NoBody is Prefect, Guess What i am Nobody
Nice to meet YOu

(Bobby+Nicky craze JT memBer)

BoBby San DogstEr
http://www.dogster.com/?158414
http://spykeaz-devil.blogspot.com/

(This post was edited by Admin on Nov 21, 2005, 5:31 AM)