ai_ney
Ultra ALPHA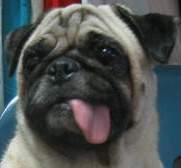 Sep 30, 2003, 9:04 AM

Post #29 of 37 (1561 views)
Shortcut

Re: [KawChai] Pictures taken from SPCA ! [In reply to]
Can't Post

---
hello yoda chai's mummy!

so many questions! haha... okok... one by one ar...



how many dogs? erm... there are more than 200 dogs and 200 cats in SPCA at any one time...

yes yes... u can bring the stuff that u wanna donate to SPCA... anything in the wish list or those u think appropriate... more than welcome... also u can donate clothes, shoes, old but still okay furnitures, etc, for their jumble sale... they have jumble sale twice a year to raise funds... the next one would be this coming dec...

i go to spca every sunday (i try)... what to do there ar? walk the dogs, clean the cages, change the newspapers, see if any dogs need grooming, need ticks picked out from ears and paws anot, help to promote dogs and pups to potential owners, and lend a hand when needed... not to forget there are cats and rabbits to take care of too...

erm, the luckier ones get adopted very quickly, especially pure breeds... well some people do donate toys for the dogs and pups, but not enough for all... they let the dogs out to roam within a restricted area at least once a day... so that the dogs get their share of exercise too...

home made pillows! of coz they'll accept them! they'll thank u so much! u know the chinese saying 'wan luen pai'? wash or not, i'm not sure... but they should! otherwise, i volunteer to wash them!




Sookie's Photo Gallery
DON'T BREED AND BUY, WHILE HOMELESS ANIMALS DIE.
EVERY DOG SHOULD HAVE A HOME.