Peenut
Dog Kichi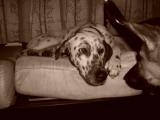 Jan 10, 2009, 1:36 AM

Post #4 of 12 (11152 views)
Shortcut

Re: [khengteik] Looking for puppy breeders in Sabah? [In reply to]
Can't Post

---
I completely agree 100000000% with you!!!

My husband and I have been calculating, contemplating, considering getting our last addition, a golden retriever...

She's lovely and wonderful to teach, but nevertheless, grooming, daily brushing, proper food, vitamins, the skin must be well washed as to avoid dermatitis and most of all, we fear hip problems. Touch wood, she doesn't show any signs of it yet, but then again, she is only 2++ months old...

We waited for 3 years before acquiring a puppy that was not from a mill, that was healthy, from healthy parents, etc.

Sigh, it breaks my heart to know that, as you said, these 'dog-show-offs' call themselves dog-lovers... At the end of the day, I don't care how much money anyone has to spend on the furkid, I simply pity the dog...