Peenut
Dog Kichi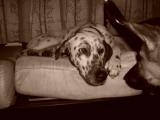 May 1, 2008, 1:30 AM

Post #5 of 13 (4993 views)
Shortcut

Re: [boyz6676] Looking to adopt guard dog [In reply to]
Can't Post

---
If you can ask such a question about rotties and goldies, please do reconsider EVER having one of them UNTIL you have done your homework and check on what they need, when they need and how much they need...
the basic temperaments of rotties and goldies are worlds apart even though they are both protective over what they care for.
I have 4 dogs at home, each and everyone of them has some "fault" of some sort or were simply not pure bred so they were thrown away by people. BUT before I decided on adopting them I thought so hard until I had headaches about whether I can afford them, how much will their food cost, how much can I save up for neuter/spay, what happens if they don't get along, training and associated costs, but most importantly can I split myself into 4 to show them all how much I love them. My husband and I made a choice and never regretted it, BUT it is not easy as one of them is permanently ill and the other (3 months old) attempts to ruin EVERYTHING!!!


Even though they might not be special to anyone else, they have saved my life more than once before (even the littlelest devil of mine).
I can only agree that with the appropriate care and immense love for your dog, no matter what breed it is, it will always be loyal to you.
Sorry for being very long-winded, but just to put you into perspective a bit more, on food alone for all 4 (they are not fat, just turned out to be very large dogs) I buy 25kg of food every 2 weeks. My biggest girl is 1, but doesn't eat much. My 2 middle ones are brothers at the age of 5 1/2 months and my youngest 3 months old only... My 3 month old girl is a Dalmation mix dunno what (my husbands friends' colleague found a Dalmation wandering on the road, took her in and the girl gave birth to 11 puppies...

). My friend's rottie eats 25kg in 2 weeks at the age of 6 months... and that's just one huge dog...
Naturally I assume you provide them with at least moderately good food... I pay about rm300 per 25kg breeder pack, so you do the maths...
Bottom line is, you must know the breed you are opting for BEFORE you find a dog of that breed.
Sorry again for being longwinded...