ai_ney
Ultra ALPHA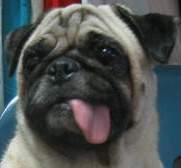 Mar 18, 2008, 9:19 PM

Post #10 of 47 (8629 views)
Shortcut

Re: [acsyen] wish to get a female pug... [In reply to]
Can't Post

---
yeah, half blind dogs are different from dogs with both eyes blind... there was a 1-eyed pug in spca last time, he did well with only 1 seeing eye, no problem there...

i read up on dry eye, if it's severe then it will lead to blindness, otherwise medication will help to increase tear production... so how is the condition of this poor puggie's eye har?



eh, arrange this weekend lah...



Sookie's Photo Gallery
DON'T BREED AND BUY, WHILE HOMELESS ANIMALS DIE.
EVERY DOG SHOULD HAVE A HOME.