SupaMolly
ALPHA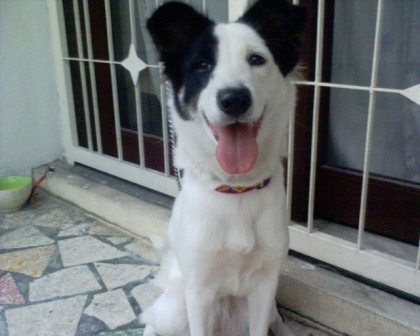 Oct 23, 2006, 5:45 AM

Post #12 of 16 (2673 views)
Shortcut

Re: [str@wb3rry] pls help me 2 get a puppy [In reply to]
Can't Post

---

strawberry...

my dear my dear.. if i was in secondary school at 15 age, i will start take k of a puppy..

do u know.. taking care of a puppy means taking responsible of a life ? this is the golden time, when u also learn to take k of ur self, and be responsible for everything in ur life, including ur own mind and soul as well as physical...

waht i mean taking responsibility is, bathing ur dog, cleaning her/his ear, checking on health conditions, toilet-training, emphasizing discipline (which can make u a great teacher to ur dog, not jsut an owner), and all that..

and u mentioned that u moved out .. u still secondary school student?

for getting a poo-trained dog, please refer back to what i have just mentioned about responsibility.. if u want ur dog to have a greater bond with u, u will have to train her by urself.. that teaches u to be patient too..

for your information, not every dog is hard to get toilet-trained,, jsut the main thing is u urself. u must be patient to train her in potty-training.. some easyly trained puppies spend just a few weeks for this, some more stubborn one, take even half a year.. my friend's puppy took just 3 days... while my puppy took 1 mth.. also, u have to take some time to observe where ur dog likes to do his/her business on, newspaper ? or grass ? or where...

so, it really depends on how fast ur dog can learn, and also how patient u r...

dont give up on training k ?

im a final year science degree student.. and final year, for your info, is very hectic and busy.. sommore i m science based, means i have a lot of time need to spend in the lab doing experiments and lab works,, plus i have a final year thesis and project to complete in 1 year time.. so.. my schedule definitely busier than you.. and i can manage to train a puppy properly and efectively.. y not u ?

u just need that boost on ur confident.. and im giving it to u now..

so.. since this thread is long time ago, how are you now? have u adopted the dog ? if u have, hows it now ?




My beloved Molly looks like MooMooo

My beloved Snoopy makes 1 of the funniest beagle in the world

My beloved Lassie is the teh-est sheltie although he is a male !





Molly Gal : 16 June 2007 | Snoopy Zai : 4 Jan 2010 | Lassie Zai : 23 April 2010

| Husky Zai : 24 Jan 2010
------------------------------------------------------------------------------------------------------------------------------------------------------------


Photography Business Website coming up soon ^^




(This post was edited by SupaMolly on Oct 23, 2006, 5:52 AM)