ai_ney
Ultra ALPHA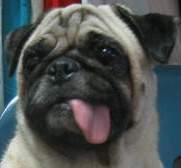 Aug 20, 2003, 8:50 AM

Post #37 of 131 (3372 views)
Shortcut

Hi Yui,

On behalf of SPCA Selangor (two-leggeds and four-leggeds alike), i want to THANK YOU for your effort here!

I am a volunteer at SPCA, goes there every Sunday (i try), and have been doing so for the past 6 months.

I like what u r doing here, posting the photos of the lovely dogs that are looking for a good home and a human to own!

So what i would do is to take photos of some dogs in SPCA every sunday, and post them here. I am sure this will really help a lot with the adoption rate in SPCA.

As for the phone conversation u had with a staff in SPCA, well, i really don't know what to say! (i read ur post in the spca forum too!). Maybe we could meet up in SPCA one Sunday afternoon and talk about it!

And for the rest of you dog lovers who are reading this, feel free to write to me here or email me if u would like to find out more about the dogs in SPCA or would like to adopt one. I'll be more than happy to help, not only u, but my furry (some more and some less) friends in SPCA!

Till next time, take care!