Ling
New User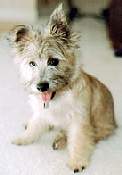 Oct 14, 2003, 12:01 PM

Post #20 of 92 (55393 views)
Shortcut

Re: [Khoobg] How often you bath your dog ? [In reply to]
Can't Post

---
I dont use dog shampoo. Either Saturday or Sunday is a DOG's day. That's when I devote my time fully like from the moment I wake up till I go to bed, I am with my dog and nothing else.

I use johnson and johnson no more tears shampoo. for both my dog and cats.

i used to use Alpo bathe or something. I got it for free, but i remember my dog scratching himself even more. perhaps is drying.

If the dog is kept indoors, just a daily sponge will do. You know, like mop him up. Big dogs I say, a weekly bathe.

Hope this help.