timchan
Member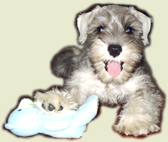 Oct 26, 2003, 8:11 AM

Post #9 of 23 (1375 views)
Shortcut

Re: [amy] Breeder help and vet for Golden Retriever [In reply to]
Can't Post

---
Hi Amy,

One important point is NOT TO BE TOO RUSH. Never be too rush or impulsive when choosing a puppy. There are many Golden Breeders at this very moment and you have many choices. Keep your options open and be extra careful. Well, questions or not, they are not too important. The best is to see things for yourself. Sometimes, if people want to be dishonest, they can pose a very good impression or outlook just to get you to buy their pup.

RM1700 - 1800 is not too bad but check out the blood line. Just ensure that you list down all the objectives and reasons of getting a pup. If you want to be in the show ring, then you might consider getting a pup with higher quality. If for a pet or companion, you may consider pet quality specimen. Both make good companions.

About the X-Ray for Hip. I agree with our friend above...We do have the facilities but I personally believe that if there is no visible signs that there are hip problems, the dog should not be put under the general anesthetic unneccessarily for the x-ray to be done. Sometimes, there are other factors to hip problems for example the weight of the dog and also too much exposure to slippery floor. I guess all dog owners love their pet so much that they would not be ready for a "devastating" news. But I know most people will not agree with that. You should not be too worry as long as you take a look at both the parents' certs and preferably have a look at both the parents. If you see weak back legs on the either the parents, most of the pups may inherit the same problem. So in actual fact, getting a pup is always a risk. Puppy will not show signs of hip problem until they are at least 6 months old unless exceptional severe cases could be seen much earlier. There are breeders that x-ray their dogs but they may mark up the price of the puppies to cover the cost. You may be surprise there may be breeders selling their Golden with ceiling high prices. I heard of some selling for as high as RM5000. So it all boils down to what is the reason you're getting the dog for. Some may claim that their pups are guaranteed to be Champion in the show ring. Come on! All Tom, Dick and Harry knows that in this world, nothing is guaranteed except LIFE and DEATH. So you better watch out for self-proclaimed Golden Retriever "Experts" or "Specialists".

Take your time, my opinion is that there will always be puppies available. You will only have 1 shot and chance to spend that amount of money. So spend it wisely. Set the right target and shot straight to the bull's eye. So rushing to get one is not a good factor. Try avoiding all sources mentioned above and you will be on the right track.

It is best that you take time to learn about all these. If we tell you everything, it won't be fun to discover things for yourself right??!!

Hope me gave some good pointers to you. They may sound scary but I always believe that it is better to be SAFE than SORRY.....