musashi
ALPHA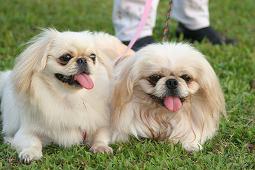 Oct 23, 2007, 12:54 AM

Post #26 of 42 (827 views)
Shortcut

Re: [myzanordin] hi!~ Steve from Ipoh [In reply to]
Can't Post

---
Hi,

My name is Rocky..I always confuse at the dog event if they are calling thier pet's name or calling me. Event in Taman desa....so sometimes I answer too fast then later found out they actually callng thier dog



For the pee business, I bougth the tray..the tray which is place below the cage,put the newspaper on top then put the prt-sheet on it..if this is thier firts encounter,put a drop of the amonia on it,when they are ready to pee, quickly put them on the pet-sheet..they will get used to it and know what to do after that. I prepare two for them just incase my Prince Jiro don;t like the first one, he can use another one, Jiro is very particular, he won';t use the one that AYAKO alreayd used.

The wee wee sheet ( Pet-Sheet) will absorb the urine in seconds..newspapart will take long time to absorb,that's why I like to use. It's a flat-sheet diapers..

It will be expensive if you buy from Pet shop..may be RM2.50 per piece,since you have 3 doggie, I recommend you use the Jasco one..musch cheaper..In Jusco all the TOP Value item corner,you will be able to see the instruction on the cover..

Happy training !


I am the man with dog's name