ai_ney
Ultra ALPHA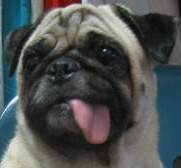 Feb 20, 2008, 12:20 AM

Post #13 of 41 (1370 views)
Shortcut

Re: [Mumbles] A dog lover checking in... [In reply to]
Can't Post

---
i have to admit, i did not know much abt pugs when i adopted my dog... it happened just like tat, becoz she had bladder stone n will be put down if no1 adopts, so i decided to adopt her... she's my very first dog, n luckily, she suits my lifestyle perfectly...

of coz there are a few sacrifices i had to make, like less going out at nite to be with my dog since i work in the day time... my point is, it will not always be downhill if the owner commits to having a dog, is willing to make little changes to his/her lifestyle, n the owner must be willing to learn more abt the dog...



i hear wat u're saying abt this forum... sometimes it gets nasty...

i was browsing thru a US pug forum n i hv to say, i admire the way they share information... altho sometimes, some newbies here deserves all the tembak-ing they get! the current one who wants to cross breed is a good example...



i do not have any contacts of any breeders... coz i strongly suggest ppl to adopt ma...

if i know of a jrt for adoption, i'll let u know, ok... or ask ur mate to visit spca... u just wun know wat dog is being surrendered there... once there was a mini poodle, really mini, very smart (being a poodle) n adorable... can u believe it? she ended up in spca becoz the owner couldn't commit... sigh...

or u can post in the jrt thread, maybe some jrt owners could provide info on a reputable breeder...




Sookie's Photo Gallery
DON'T BREED AND BUY, WHILE HOMELESS ANIMALS DIE.
EVERY DOG SHOULD HAVE A HOME.