shuwen84
Dog Kichi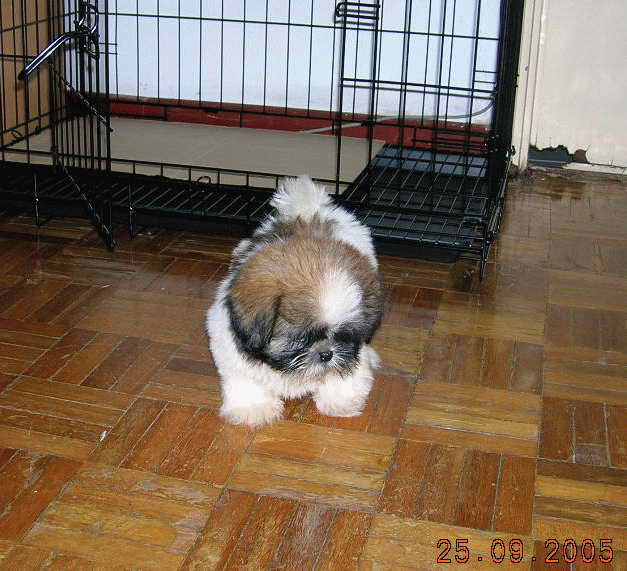 Sep 27, 2005, 12:58 AM

Post #1 of 44 (515 views)
Shortcut

happy owner of little shih tzu
Can't Post

---
juz got my shih tzu few days ago..... female......

then suddenly realised i havent introduce her to this forum yet~~ lol

coz ive been in this forum for a long time to know more about puppies before getting one... but im stilll considered newbie la... knowledge is unlimited..





my lil shih tzu.. i call it Rainbow....

she is white and brown, with some dark brown around the ear and face area...

she seldom barks... and i mean, RARELY!! which is good.. as i live in an apartment :P

but my housemates keep on saying she is not a puppy, she is an overgrown hamster...



as she makes no noise..kekke

even at night when i sleep, i put her in the crate as not yet toilet trained.. really wish can sleep with her... she also make no noise...and the way she sleep very cute..eekss.. but no options to attach pic here



she is so cute, will follow us around when we walk, but she still cannot run properly, she always slipped...

she took the first jab from the breeder a month ago, and is due her 2nd jab this saturday... been planning to take him to the vet in genting klang, issit recommended?

and one more thing, her eyes have those mucus... how do i clean it? from the forum, some ppl suggested eye mo... how about the cleansers we use for our contact lenses? can we use that? pls enlighten me..

do those small red ants bite dogs? my house sometimes got those ants, really scared they bite my Rainbow...