musashi
ALPHA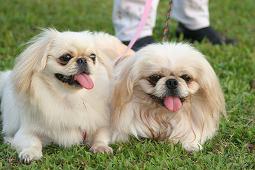 May 23, 2007, 5:12 PM

Post #66 of 76 (14354 views)
Shortcut

Re: [goofydip] we really want to join you guys! [In reply to]
Can't Post

---
Hi,

Yea, my dogs are Pekingnese,I adaptod Jiro when he was 9 motnhs old,I got Ayako from Pet safari when she was 8 week old on K9 day 2007....

I train them to walk since they are young,I used harnesh at first,then when go for OB training, have to use collar & leash, at first Ayako don't walk too,but once Jiro go, she will follow, she loves Jiro so much,so alwyas stick to him. Moreover, she is motivated by food, if she wlak, I reward her with food..she is fatty bom bom..

When go to jungle trekking, Jiro will cahse his girl friend,so AYako chasing from behind, rwo of them also hve motivation ,,



My wife will bring Jiro out to walk short distance fro discharing every day, at times he wants walk different direction,he might just lie down there and wait for us to pull him.

anyway,Pekingnese is lazy and don't like walking too much, they are the KING of the house,fotunately for me that both of them are active...

, btw, I took both of them to Cameroon Highland on Feb 2007...next time will come to look for you and socialize..


I am the man with dog's name