shlee
Doggyman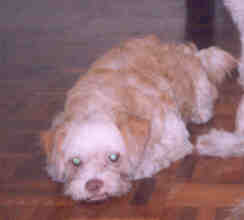 Dec 5, 2003, 5:09 PM

Post #64 of 68 (3223 views)
Shortcut

Re: [eli] My lovely dog is stolen on 17/11/03 in Bandar Puchong Jaya! [In reply to]
Can't Post

---
My dog is very naughty in the house, but she doesn't dare to go out even i let the door open. Anyway, i do wish she has managed to escape and she's now at somewhere...so that i would have the chance to meet her back (provided she is still in Puchong area).

But i'm sure the 2 callers were only playing prank with me. The 1st one, when i called back, nobody picked up the call and i suspected he was calling from a public phone. The 2nd one, there was a guy to pick up my call and he admitted that his cousin was playing prank with me and he apologized to me. I didn't scold him, becoz i was already tired with it...



My MiMi is only a mixed breed. Doesn't look pretty, but cute becoz she is quite small and short in size. Since she is only a mixed breed, i never expected she will be stolen by one day. She is very close to me since she's born. I'm treating her like my little sister or baby. Thus, her missing really breaks my heart! Nowadays, she will still appear, but is in my dream...





*****Pls help to look for my MiMi (refer to my avatar for her pic)*****
*****MiMi, where are you now? I miss you.....*****