RealityDreamer
Doggyman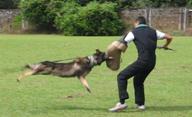 Oct 13, 2003, 8:25 PM

Post #4 of 28 (3535 views)
Shortcut

Re: [Amanda85] What do your dog sleep on? [In reply to]
Can't Post

---
It depends on an individual dog which one he thinks it's more comfortable.



Silky likes the marble floor esp in an enclosed area. But sometimes she'll just sleep in the middle of the room.

Tyson likes the marble floor. Sometimes he sleeps/relaxes in the pond after a brisk walk. Or sometimes he just digs some cool sand in the dig area and sleep there.

Hazel likes the tiles with some rags under/around her when it get's cooler at night. If it's hot, the same thing, minus the rags.

Kaizer likes the grass. If not, he'll be in the dig area resting there.




,-._,-.
\/)"(\/
(_o_)