RealityDreamer
Doggyman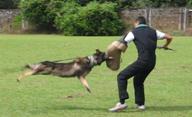 Oct 3, 2003, 12:39 AM

Post #13 of 15 (1549 views)
Shortcut

Re: [sslee80] How old is your dog? [In reply to]
Can't Post

---
hee hee hee!




nat's right!

hv to be optimistic!





you know, i read somewhere, somehow, wht u expect of a dog, can happen(reasonable things of course) for example, if u think a dog is smart, he'll be the best (smartest) he can be. If u think a dog is stupid, even if he's smart, he'll meet up to your "expectations" and will never be as smart as he can be as long as his dearest owner looks down on him tht way.

So, if we expect them to live long, they'll try their very best to be the best .


,-._,-.
\/)"(\/
(_o_)