ginl
ALPHA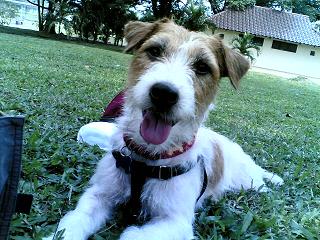 Aug 14, 2003, 6:42 AM

Post #16 of 341 (32973 views)
Shortcut

Hi Michelle,

Im going to paste and advice given to me by a holistic board on mange. It also includes homeopathic remedy posted by Joanne here (extracted frm the same book source)....it's a bit long but well worth the info and knowledge if you read it thoroughly :


Gina, I am going to copy/paste information on Holistic Treatments of 2 types of Mange which I hope you will find useful. They are well used, have proved to be very good.
Yes, you need to Detox your dog, you can get a good homeopathic detox from DetoxRules@aol.com or you can order it from www.caninecaregroup.net, Remedy Page, then click on Pets4Homeopathy and go from there. You do need to build up the Immune System, again on the CCG website, you will find some articles on what damage all different types of chemicals and medications can do to our animals. Please go there and read them. Vaccines are the worst thing. If you have a dog in this situation, your vet should not even suggest vaccinating. I appreciate you need to give Rabies, but if a dog is in ill health you can get a waiver from your vet until things are sorted out.
You have choices. You can vaccinate and use homeopathic remedies alongside those vaccinations to try and negate the toxic effect or remove the toxins that are in the actual vaccines, the list is long and if you saw it you would never vaccinate again. You can choose not to vaccinate but keep homeopathic vaccine nosodes on hand should they ever be required, or you can vaccinate homeopathically. The same applies to Parasite and Flea control, all this can be done holistically/homeopathically. Please DO NOT dip this dog. You are going to cause more problems than you know. The Diet also is essential. It must be a natural diet, a good homecooked diet or a holistic kibble diet......whatever is easy and we do have a diet topic page that I know will give you good advice on this subject. So, here are the articles, read them, and if you have any queries as to how or where to buy remedies, please write back.
I am not that struck with the aromatherapy to be honest and I have tried it in the past. I find that the homeopathic route, using a proper Detox first, gives benefit but it will take time. Do not give this dog any other medications unless they are required for life saving purposes. My main concern if I was treating him would be to get the Immune system strong, the skin regularly cleansed and the remedies listed below into the dog to start fighting off infection, which can set in, and cleanse the blood. All of this will help your dog.
Hope this is enough information, if not, please do get in touch. Sam

***Without any doubt you need to get this dog onto a Detox which will remove all the toxins caused by all these medications. These are not really helping the dog. It is fairly obvious that he cannot cope with them and his Immune System is taking a real beating.
Lita can also provide this, along with a blood/immune/infection remedy which will back up the Detox and I think she will be able to supply you with a homeopathic steroid.
There are other ways to control Mange, and rather than dips, perhaps you could consider these.
This is from my website, perhaps it will help you match the symptoms to a remedy. It would help you a lot to visit the site, which is www.caninecaregroup.net and read the Holistic Health topic which explains about the Immune System and a ton of other things that may just guide you through this until we can get some remedies to you.
If you can start giving him doses of Echinaceah or Astragalus which you can get from a health store, it will make a start in building up his immune system.


Follicular Mange

This form of mange attacks young animals under one year
although the effects may be noticed at a later stage. There are two main
types in this condition

Squamous and 2. Pustular, depending on the ages
of skin attacked, whilst the type of skin also plays a part. A weak immune
system is also a cause.
The mite is the cause and there is a predisposition to the disease
congenitally.


Squamous type - hair follicles are attacked by the mite, which also
inhabits the neighbouring sebaceous glands. The hair soon falls out giving a
bald appearance over a wide area of skin, although smaller areas may also be
affected. Corrugation of the skin is the outcome together with dryness and
scariness whilst a bluish discoloration develops over the bare patches.
Pruritus is generally absent.
2. Pustular type - in the form the hair follicles become the seat of small
pustules most often seen around the mouth, outer elbow and hock and in the
auxiliary region. Extension of lesions leads to the development of small
fistulae, which secrete Pustular material.
Treatment.


Type 1


Sulphur 30c - a good general remedy which alters the conditions favourable
to the development of the mite. Dose on twice daily for a week.


Kali.Arsen.30c - suitable for more advanced cases, which begin to show
corrugation of the skin. The animal may be restless and seek warmth


Lycopodium 1M - this remedy will help stimulate growth of hair provided the
disease is not too far advanced and destruction of hair follicles has taken
place. Dose one daily for one week.


Type 2


- possess a powerful action on purulent infections of hair
follicles. In this potency will abort the pustular process. Dose one daily
for one week.


Kali. Arsen 30c - as for type 1


Silica 30c - a useful remedy for those cases showing extension of lesions
into fistulae dose one daily for five days


Calc.Sulph.6c - this is also a useful remedy for healing Pustular lesions,
with small yellowish scabs. Dose one three times daily for three days


Mezereum 6c - a remedy which is more useful when the lesions are chiefly on
the head or face. Small scabs coalesce and cover purulent areas. Dose one
twice daily for one week.


Thallium Acetas 30c - Thallium in potency possesses the power of obviating
the effects of trophic lesions on the skin and subcutaneous tissues. It
thus encourages growth of hair on denuded areas and is suitable for long
term remedy in both forms of mange. Dose one twice weekly for one month.


Also, use Bach Remedies Crab Apple and Hawthorn for approx. 4 - 6 weeks or
stop when you see an improvement if before then.
You can also use Aloe Vera, garlic, parsley, wormwood, and cloves.
The basic problem is poor immune system and the diet, which needs to be
totally preservative free. Use garlic raw in the food up to 2 cloves.



Here's a herbal treatment - demodex can be hard to get rid but if the dog
is in general good health including natural raw diet, plenty of exercise
and daily grooming this is worth a try.
"Save all used lemon halves and place in a gallon container, at least 24
halves to the gallon. Place the jar or container in the hot sunlight or
pour hot water over the lemon. let the lemon remain in the water until
pieces begin to turn mouldy, then remove and replace with fresh ones,
squeezing hard the old ones into the water. Do not throw away any of the
old lemon water which then remains. Rub the lemon potion into all parts of
the dog's body to expel the skin vermin. When pomegranates are available,
the peel can be added to this lemon lotion with great advantage. Use the
skins from three pomegranates to every nine lemons. (keep jar covered with
a paper top -not greased paper)"

For the demodectic mange I would suggest using a lemon tonic that you
can make at home.

1 lemon whole lemon sliced thinly
1 pint water
bring water to near boil add lemons,
let steep overnight. Sponge on once a day.

The above recipe comes from the book by Dr. Pitcairn (I can never remember the title)

Below is how to prepare the treatment for the skin wash.

This "recipe" by Pitcairn has worked for me in order to treat very
different kinds of skin problems. Since there are a few out ther,
thought I might send it along (from Pitcairn&Pitcairn "Natural health
for Dogs&Cats"):

- Slow boil in a liter of water 4 lemon skins (I squeeze the juice
for lemonade) for about 20 min.
- Let it cool down for about 1 hour
- Put it in a closed container and leave it a couple of days (for the
natural oils to "dissolve"... I think that there is some kind of
rotting going on as well, which helps quite a bit)
- Strain it into a squieting bottle
- Squirt freely over damaged skin (sounds crazy, but actually soothes
quite a bit and the D-limonene helps in skin recovery)

You start seeing results in about 6 days in my experience. I added my
personal touch: 4 teabags of chamomille in the boiling water.