lbn
New User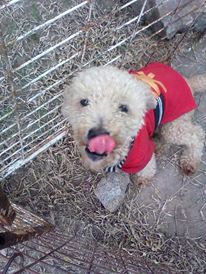 Mar 12, 2014, 11:17 AM

Post #1 of 5 (30678 views)
Shortcut

Having a dog is hard
Can't Post

---
I am a new owner of a 3 year old male poodle for 4 months now. I comb his hair every 2 or 3 days at the beginning to get rid of ticks.

As a new owner of a dog i was anxious to be a good master from the start. I often google in the internet. Dogbreedinfo.com was the first website i came across. During CNY i didn't groom his hair for 10 days. His fur was dense. I thought the ticks couldnt get on his skin now.
By that time and i thought he looked very cute, just like those posh dogs in internet

. Then i found about Heartgard. I bought Heartgard at a pet shop and gave it to my dog. He has difficulty breathing after that so i brought him to see dr. J.

During the visit i accidentally felt my dog's legs and found them alarmingly thin.



Dr. J said the dog has mild fever but he couldnt figure out why. He said it's good if the dog can put on one or two more kilos.

He tried to give the dog a vitamin injection but the lamby dog suddenly turned ferocious

so it was an unsuccessful attempt.Antibiotics and vitamin syrup were given to be taken home.

Dr. J also examined the dog's mouth and asked me if the dog's really 3 year old because he has really bad teeth. (read on to find out the truth)
I was really unhappy about it.

So I straightaway brought the dog to another vet, Dr. T.

She said the the dog's teeth are fine. There's only one decayed teeth which was a retained milk teeth.
I was so relived to hear that. Immediately i liked her and was thankful for her knowledge. (Dr. J is a kind doctor too)

But then she gave me REAL advice. She asked me why was the hair of my dog so tangled and dirty, and the dog's tear stain was unbearable to see



I defended myself and said I brought the dog out for a walk every day so few tiny spot of dirtiness in the hair is really nothing. She told me poodles need special care and grooming. I really thought i was innocent until i went home and combed the dog's hair for 3 WHOLE hours to untanlge them and the next day found 170 ticks on my dog's body, and a few days later 20 mating pairs inside my dog's bed!!! (note: use a tweezer to catch the ticks. Don't use your hands.)

And that's not the end of the story.
I told Dr. T i gave fish, chicken meat, eggs, rice and BONES to my dogs. I think by the time she almost pengsan to talk to a KNOW-IT-ALL person. But she's very professional, maintaing her composure and told me not to give bones. (actually i've already read about that in the internet but the Traditional chinese thinking is still deep rooted about giving bones to dogs- after all, why waste them when a dog can eat them, right? Typical stingy chinese

)

And when I asked Dr. T why was my dog so thin and I took him for walks for 1-3 hours a day, guess what Dr. T said? "No wonder he's so thin! How could you take him out for so long?"

And I replied,"He 's always wanting to go out and each time we reached the gate, he refused to go in because he wants to walk some more!

"

Guess what smart dr. T said. She said" the dog's not neutered, so he smelled the odors of other dogs and probably wants to go out all the time, even if you locked him up."



Wah, I really salute to her. She's just so knowledgeble.

2 days later i brought the dog to see an experienced Dr. C (same clinic) for high fever false alarm( i read 40.3 as 43 degree celcius at home

), skin fungal infections and low bodyweight- honestly, i was heartbroken to see how thin the dog looked after his hair was cut with scissors- can change name to ribsy already(luckily dr. c said the dog looks quite fine to him. I suppose it's shocking to me because the dog was slightly fatter when i adopted him, and also due to the after-haircut-effect. I have a friend whose poodle also looked very skinny after lots of hair being cut away)

Dr. T told me the dog's fever's probably caused by the ticks and she was damned RIGHT about it.

because three days later i used FRONTLINE on the dog and his temperature became normal again.
I feel so ashamed i could find a hole to hide.
(I already bought frontline at a petshop after seeing dr. T but refused to use it on the dog because i was scared that pesticide is harmful. I was determined to catch them one by one until i found them mating in the dog's bed.)






sadly, after one week applying, another type of ticks (hard ticks) appear. I thought it's suppose to be effective for a month?? One pipette is RM26 somemore.

Now i am trimming his hair as short as possible to catch the ticks EVERY day. No more fluffy and hairy cutie-pie to see. And when i try to trim or catch ticks between his toes he'll try to bite me. His skin fungal infections didn't get better even though i use the RM35 mycoril spray on him every day.
He's also very needy and demanding. Not to mention daily walks for about half an hour. He doesn't stay inside the house.



I feel so tired. After all, it's my sister who got the dog and left me to take care of it.
It's not so much about the money. I don't like dogs. I see them as meat-eating beasts. God knows i give the best to this dog. I take hundred of pictures of him. Recent teeth cleaning and vaccination cost RM261. i know it's necessary and insisted on it.
But he's very uncooperative by behaving crazily in the clinic. ( My fault because he sensed my nervous energy. I hate needles and surgeris. I cannot imagine how to neuter him although vets said it's advisable because the dog only has ONE testes)

The challenge of rearing a dog is like never ending??