ai_ney
Ultra ALPHA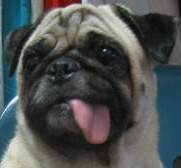 Aug 26, 2010, 1:12 AM

Post #2 of 2 (1359 views)
Shortcut

hi, poor thing with ur pug... how is ur vet not helpful, n where is ur area? u could try searching the web for overseas pug forums, they have pretty good info with real life experience from pug owners... all the best n hope ur puggie is well...




Sookie's Photo Gallery
DON'T BREED AND BUY, WHILE HOMELESS ANIMALS DIE.
EVERY DOG SHOULD HAVE A HOME.