Janz
Dog Kichi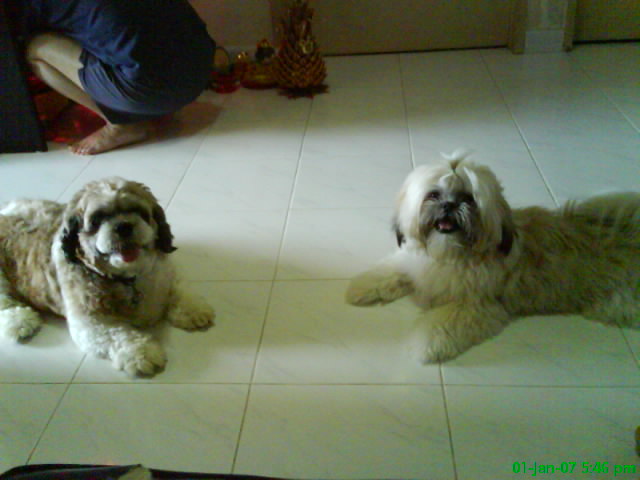 May 16, 2009, 7:47 PM

Post #1 of 9 (6037 views)
Shortcut

Cruel Veterinary Clinic located at Bajan Jermal
Can't Post

---
Dear Pet Lovers @ Penang,

I wanna share a real story and hope all aware of this Vet's Clinic...

This happen today (16/5/09) around 8.50am:

At around 8.50am, we reach the clinic but the gate is still close so i gave a call and told the receptionist tht we're juz outside the clinic, but the receptionist rudely answer me by saying "WE WILL ONLI OPEN AT 9AM" and juz hang up the phone.. WHAT KIND OF MANNER IS TIS? My dog is very weak and it is an emergency case.. So i called up again and tis time i told her "Can u pls open the gate for us as my dog is very weak and its an emergency, i need to c the doctor", but the receptionist juz take it lightly and ask me " what happen to ur dog " and ask me to hold on... What the F***!!! Tis is a life... Then minutes later the DOCTOR walked out to the gate and yell at us and my mom "U CALL AND SAY IM DOING NOTHING INSIDE BUT SHAKING LEGS?" F***... He didnt even chk on my dog but juz yell at us even before open the gate... Is tis a kind of welcoming sign? Then i juz ans him saying i didnt say so... I dun wan to waste time arguing wiz him and my dog's life is more important than anything else... I need him to do x-ray on my dog which having bladder stones n is blocked n cant urine the whole nite... I juz need him to xray then i will bring it to show DR SARAH (LIFE VETERINARY) who is my dog life saver twice... She is the best ever vet i met...

Then, i told the doc tht my dog cant urinate n i wish to get him xray... so he asked us to wait outside while he bring my dog for xray... Not long later, the xray came out but he didnt attend to us n juz passed the xray to the receptionist and ask us to GO!!!!! Shit.... I dun knw wat kind of VET u r... Juz pretend to be gud in front of others? I dun give a damn on tht as i dun need his shit advice... I juz pay the money and walk off... Then i gave a call to Dr Sarah, whose clinic open at 10am but i call her at 9.20am n told her tht im on my way... She said "ok juz cum over, i'll be here waiting".. Im so grateful to her.... This is the service and manner tht shld have in one's vet... Vet main task are to save life... Not taking animal life lightly or for granted...

To the Vet, i hope u r reading tis.... Pls bear in mind tht customer's words are important than urs...

To Dr Sarah, I knw whatever u can do, u have already done... we're so grateful to u as u had done ur best on both 1st (even u r about to due for delivery but yet u still performed the surgery on him despite ur big stomach) and 2nd surgery on our precious dog... We understand tht he's old as he's now 11 yrs old... But to us, we hope he can be wiz us as long as possible as we luv him too much...

Million Thanks to u, Dr Sarah... U r the best Vet...


Regards from Smarty (In Luving Memory) & Maxter