OmgPuppy!
Member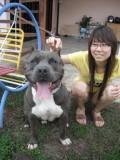 Jan 5, 2009, 6:54 AM

Post #6 of 19 (3402 views)
Shortcut

Bro, i think u get some cheap abpt around 700-800 at adpost. But i'm not sure about the quality lo. I know a guy from PJ which has chinaman bloodline abpt.

Dead Game and Tryin' to Scratch...
Give me victory or give me death,
I will make history and gain your respect.
Take my lesson, or take my life,
Triumph is blemished in the absence of strife.
I have great pride, for I am unequaled.
Win, lose, or tie, there won't be a sequal.
Its unexplainable and seldom viable,
but I am dead game and thats undeniable...