Scotch
Member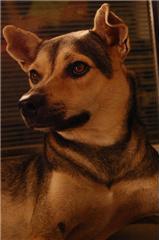 Jul 25, 2008, 1:56 PM

Post #5 of 8 (10149 views)
Shortcut

Re: [Nat&Latte] I Need Help For Toy Poodle Agility Training [In reply to]
Can't Post

---
Hi

Sure, of course we can be friends.

I appreaciate that you want my advice, but I'm also new to the whole training thing. I got Scotch a year ago. Do you mind telling me what booster shots are?

But if you mean training like sit, down or stay, I may be able to help you. Scotch has already mastered those commands.

If you want your dog to learn more, additional tricks like 'high-five' and 'bow' can also be taught. But I have no experience in training a puppy. I got Scotch when he was 11 months. He didn't know anything then. He didn't even have a name.

As for the agility training, you can do research on them on the internet. There will be a lot of information. From what I read, for the jumping, the dog must be at least 1 year old. But before that, you can try doing the weave poles and such will doesn't require any jumping.

But I think for agility, the dog must know how to 'sit' and 'down'. They must do this on the pause table.

So make sure your doggy knows that, yea.

Look forward to hearing from you soon.