koruchann
Novice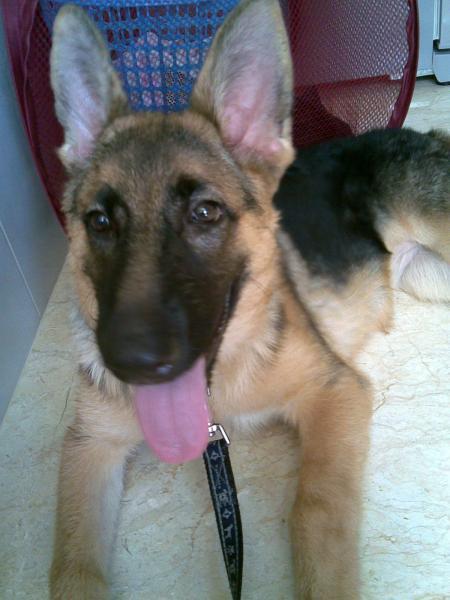 Feb 20, 2008, 6:24 PM

Post #1 of 11 (15668 views)
Shortcut

My poor Bailey :-(
Can't Post

---
My 5 mth old GSD is suspected of having early symptoms of HD, so after the vet checked her, he said only left hind leg is giving my dog a bit of pain when pressure is applied. I was so so sad for my baby

A thousand awful thoughts in my head, what if my baby cant walk anymore & is in pain everyday? The heartache was like as if a Doc telling me the baby in my womb is not OK.



The trainer in Bailey's OB class was the 1st person who commented he suspect Bailey's HD & told me to get her checked. The view from her rear, looks a bit like duck walking. Wen she runs, sometimes can see the bunny hop with both back legs.

Albeit, the vet said its not a life & death situation yet & its still too early to be 100% sure. He was kind & gave me lengthy advice on the precaution. So he recommended me some supplements to start Bailey on & he explained that there is 1 types of Glucosamine out there; Glucosamine Sulfate & Glucosamine Hcl. Both are equally good just differ in price. Does anyone know about tis? The vet said Bailey does not need Synoquin yet so he suggested i take the Pet Natural's one.

He told me not to worry & comforted me that it is very common & he has a few dogs with HD too. He has a huge Chow Chow with HD in his clinic & he said the Chow Chow was abandoned in his clinic by his previous owners.

He also told me his client's Rottie, whose HD was so serious, both hips sockets almost laxated & was put on Royal Canin Mobility Support. The Rottie used to drag itself & after 3 mths on tat diet, he can walk agaiN!!! The supply is quite limited. Does anyone know where to find this?

It's so heartbreaking to hear the Vet said her legs will never be straight again