Wings
Novice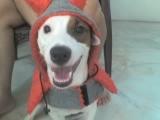 Nov 14, 2007, 11:34 PM

Post #5 of 7 (2232 views)
Shortcut

Re: [hclai] is JRT and Parson Rusell Terrier the same? [In reply to]
Can't Post

---
Both of them are male. At 1st my JRT will bully schnauzer, but we keep on telling JRT that "NO NO NO....

, he is Didi, you have to sayang didi". My Schnauzer very playful & notti, he dunt scared JRT & Keep on approchead JRT play with him. After Fews day, they play together. Now i want to piak piak

schnauzer the JRT will help out....

my JRT will block me to chase schnauzer.

They sleep together in the afternoon for nap. However, i will bring the MS & My mom will bring the JRT sleep seperate room at night time. They have seperate cage, seperate toy (but they will fight for 1 toy even we buy 2).

I bring back my JRT when he is 2 month old (after that only i read from book it is too small to bring back home), it make him can't mix with other dog when we bring him for outing. But after we have the MS, my JRT now have no problem to mix with other Dog...