myzanordin
ALPHA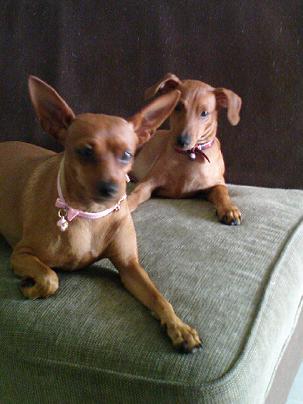 Jul 26, 2007, 7:12 PM

Post #6 of 8 (12368 views)
Shortcut

Re: [dowk2301] Deworm Overdose [In reply to]
Can't Post

---
I never trusted Pet Shop. Always refer to my trusred vet even for minor things. When I bought my min. pin Brenda 8 months ago, she was diagnosed positive for distemper virus by my vet. I was soooo angry and called the Pet Shop. They insisted that I left Brenda with them so they can send her to their vet. I had a big quarrel with them, when they refused to release the vet location to me when I insisted to send Brenda myself. They said cant reveal cos blah, blah, blah..anyhow, I managed to get the location and send Brenda personally to the so called vet.

To my surprise, it was a small shop where the dog carrier is stacked like fruits and vege crates.The doctor look so 'dirty' as when I arrive he was sweepin the floor. I explained to him and showed him the 'test kit' which I brought along with me (on Brenda's positive result) plus a letter from my vet. He didnt even touch, look or check or touch Brenda, and said he needs to board her for obseration. No way, I am going to leave my Brenda in this dirty horrible looking place.

I took her home and with my vet medication and guidance, she went through the ordeal , she has strong willpower to live. She is healhty now. My vet put her on imune pill and other stuff. I bet you, If I have left her there at the pet shop, they would just placed her in one corner, waiting for her time to die. Or worst sell to another person and replace a new puppy for me.When I asked them, why is their vet clinic look so unhygenic. They said the vet entertained only pet shop and not pet owners. So just imagine ..what kind of people we are dealing with! The animals are treated secondary. Their welfare is not the pet shop priority, its $$$$ they are more concern of. I bet you their vet is paid peanuts and reports and diagnose that their made is to suit the pet shop. FYI, Brenda is the brown min. pin in the avatar

I have anyway, spoken to Malay Mail and my issue was highligted in the Hotline. BTW, the pet shop is PEts More in Kepong. In your case, try calling Malay Mail. The reporter will direct your complain to the accorded people.

Good luck! I guess now its not the money issue. But justice for your dead puppy.