ai_ney
Ultra ALPHA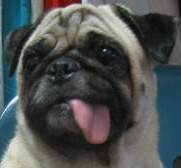 Oct 17, 2006, 9:28 PM

Post #7 of 57 (2624 views)
Shortcut

Re: [chrisong, wba84] Puppy refusing to take antibiotic pill [In reply to]
Can't Post

---
hi chrisong, we are supposed to suggest ways for a dog to take a pill, and not scare wba84 with the 'evilness' of wet food! haha!



by suggesting the use of wet food, it is merely a 'tool' for the dog to take the pill without any struggle or 'wrestling' with the dog...



wba84, chrisong is right to some extent abt wet food, altho it seems more of a blanket statement... but i disagree with canned food being something like junk food to dogs... canned food is an alternative to dry kibbles, whereas treats, on the other hand, can be considered as junk food...



every weekend, i mix wet food with my dog's kibbles as a 'treat', she loves them, and has no problem eating her plain dry kibbles on normal days... use yr own discretion when feeding yr dog... many ppl can tell u what's good and what's bad when it comes to food, but it is up to the owner to decide and understand and train the dog's eating behaviour, but this is a whole other topic altogether!



hope all goes well with yr doggie and the pills, and wishing yr dog a better health after the course of medication...



Sookie's Photo Gallery
DON'T BREED AND BUY, WHILE HOMELESS ANIMALS DIE.
EVERY DOG SHOULD HAVE A HOME.