Amber.Faith
Old Kaki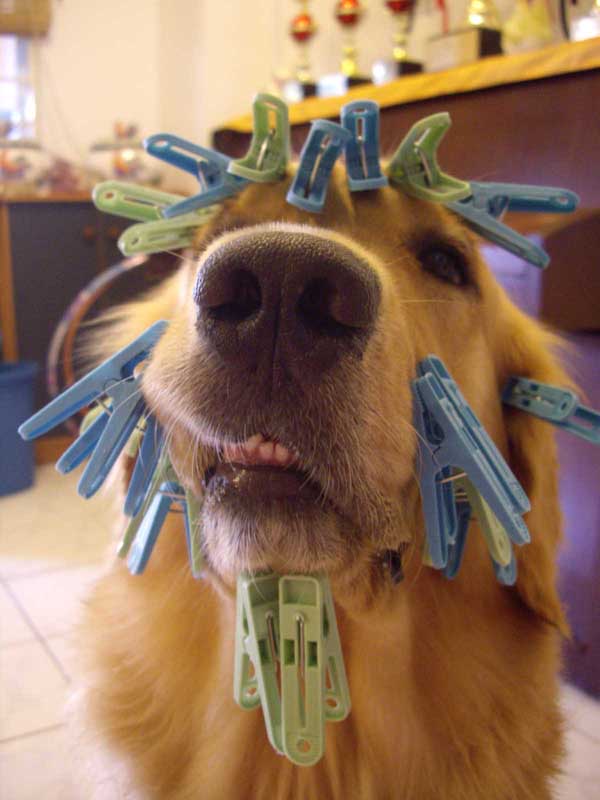 Oct 15, 2006, 6:55 AM

Post #1 of 8 (8847 views)
Shortcut

Golden's Hip Dysplasia
Can't Post

---
Actually and honestly, we can't tell why our Goldens have hip dysplasia. We can't tell the real reason nor can the vets. I have a Golden which had her hip problem when she turned 4mth plus. Now she's all grown up and going to turn 1 year soon probably next month. She has a very pronounce sway & ofcourse we asked her breeder what's the reason why she has it...

The breeder blamed it on us becoz we chained her up. Don't think that's the reason that caused it coz the chain is very long about 6 feet and we only chained her up for certain hours of the day to control her toilet habits. We also put her in the cage when it rains or when it was time for her to sleep at night. And he also blamed us for that! Imagine...Then, he said, oh it's becoz we let her walk and run on the tiled floor. She only slipped a few times but did not cause any serious injuries nor twisted her legs once hence, she could still get up for more!

Then I just met a Golden owner at my training ground a week ago and she asked why her 4mth old male Golden has hip problem. Oh it's very bad...worse than amber with her hip prob now. Imagine amber's one is already bad, that golden is terrible! The owner told me that she puts her golden in the cage for certain hours too. The Golden's breeder himself told the owner to put it in the cage becoz it's still young. And then when she asked the breeder why the dog has this prob, he actually blamed her for putting her dog in the cage. Gee...

From my perspective and what I think is the reason, I'm still not sure but I think is the answer, I just think it's genetic. If the parents have it, then it has been passed on to the pups. Goldens can also get HD from being confined in the cage for months without letting it our once just like the recent case of a Golden Retriever chucked at PAWS by its horrible owners.

Another one is by, having a terrible fall! Really banged up & twisted legs. Then, it can get HD. But not really from having a small slip. Not really...Coz most people are saying that this is wrong, that is wrong, everything is wrong. So what's the solution?

The only thing to maintain but not improve the hips is by giving glucosamine. Also try to avoid your Golden from jumping too much. That's another way to not make it worse. Run on soft grounds like grass or padded floors. Do you know my whole porch has been padded up with matts? Wow, cost a bomb but if we love and care and wana make sure our dog's hips won't get worse, that's the only way...My whole porch looks damn ugly now but what to do? Hehehe...

Sometimes having a pet dog really takes alot work, more work than taking care of a child, LOL!