OmgPuppy!
Member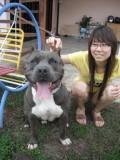 Aug 4, 2008, 7:45 AM

Post #11 of 13 (15458 views)
Shortcut

Kennel cough is also known as Parainfluenza. Normal coughing is not considered as kennel cough. My pup was having some cough today, so i brought him to the vet. And the vet gave him some Antibiotic. And he told me that kennel cough could be a decease that will take ur doggie's life. he said there was a case where a dog were put to sleep due to kennel cough. And nvr feed ur dog with honey when they're having cough. cuz honey is high in sugar and can easily cause diabetis. My 2 cents



Dead Game and Tryin' to Scratch...
Give me victory or give me death,
I will make history and gain your respect.
Take my lesson, or take my life,
Triumph is blemished in the absence of strife.
I have great pride, for I am unequaled.
Win, lose, or tie, there won't be a sequal.
Its unexplainable and seldom viable,
but I am dead game and thats undeniable...