groovemaster
Enthusiast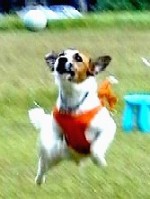 Aug 17, 2005, 1:36 AM

Post #2 of 4 (6400 views)
Shortcut


Hi jan, d Aframe dat u mentioned b4 is set quite high bout 6 ft, which is d competition height actually. D majority of dogs will find d frame a daunting obstacle 2 climb wat more ven its set so steep

. Ven training 4 d frame, best 2 start at lower levels around 3-4 feet high. Hence u can easily coax, tug or push him 2 walk across it. Ven heís comfortable with d height, den u can set d frame at 5-6 feet for more serious training.

But most Aframes u c r already set at a certain height n mgmt is usually unwilling 2 adjust it 2 a lower height. So u r stuck with it. Another way 2 train ur dog is back-chaining or performing d obstacle in reverse order ie. get him 2 perform d descent on d downside plank 1st. Lift him 2 into a higher position on the downside plank n heíll naturally walk down. Ven heís comfortable with dis, try placing him at d apex n coax him 2 walk down from dat height. After a few sessions, he shld b fairly comfortable with d apex n u can den start on d ascent on the upside plank.

As he already knows wats on d other side, heíll b less hesitant 2 climb d frame. 2 climb d frame, uíll need some run up n momentum 4 d dog 2 scramble over d apex, especially 4 medium 2 large sized dogs. Start ur run up bout 10-15 feet away from d base. Ven he can perform d Aframe, just watch out 4 d descent so dat he doesnt jump off too soon. In d trials, 1 of his paws have 2 make contact with last portion of d downside plank (usually painted in a different colour bout 3 feet from d end of d plank) 2 exhibit control n also 4 safety reasons. Otherwise uíll b called 4 a fault.


Good 2 hear dat heís taken 2 d jumps like fish 2 water. If heís still < 1yo, just keep d jumps training 2 a minimum n at low levels as his hind legs n joints r still developing. After 1yo, u can hv a blast!


__________________________________________________


Feeling groovy? ... den take a peek at 'GroovyDogsJustWannaHvFun'