aricalaw
Novice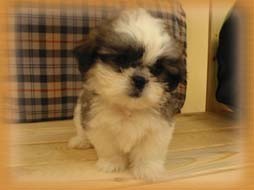 May 26, 2005, 11:12 PM

Post #5 of 14 (524 views)
Shortcut

Thank you so much for your reply. I'll try that out. I put on the shirt for them, then at night, they just managed to take it out themselves.

Put them on the warm cushion, they came out and just sleep on the floor. Ya, I didn't on my Aircon because of them.

About the distemper, I read about it too. Don't think they are this, their appetite is very good, no watery eyes or diarhae. Yes, I'm quite unhappy about the petshop too, they were supposed to give my puppies first jab, but kiki wasn't feeling well, didn't eat, so they didn't give her the jab. Now she's okay, they said give her some rest first, jab next week. Then mumu because of the cough, also don't jab first...

I think I'll just bring them to the vet myself.