jessicaohh
ALPHA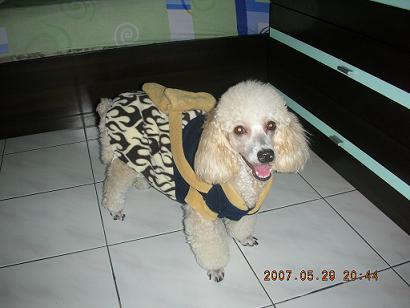 Nov 2, 2006, 5:52 PM

Post #14 of 17 (8440 views)
Shortcut

Re: [liz.1106] any dog training in penang ?? [In reply to]
Can't Post

---
hi liz,

so sorry for the late reply...din check out this thread until today...so din realize that you post msg for me..sorry ya...

yup...i went for the training d....it's puppy training class..the money we gave is for donation to spca penang actually...so no fix amount...you can pay any amount from RM80 onwards... ..the class is interesting....the trainer taught us on how to teach our pups on the basic commands like 'sit, drop, stand' etc...sasha loves to go to the class....i think it's very good to go such classes coz our pups have a chance to socialise with the rest...

the puppy class has ended in sept actually...n rebecca (the trainer) is going back to australia this dec. thus, she won b able to conduct anymore classes d....

so i'm actually waiting for the training class at minden heights...hopefully can get more info on dat...n hopefully the cost is not so exp.

it's good that you hv your new pup d....can post the pic here...would live to see...



yeah...sasha has grown up now....going to b 7 months soon...you can go to her blog n see her pics n some videos



so r u planning to join the training class at minden heights? perhaps we can go together...

it's good to hear that ur baby is housetrained...n i guess by now we would be about 4 mths old? fully vaccinated d?

since there's quite a number of dog lovers in penang (from this forum), perhaps we can organise a get-together...for us as well as our doggies...

i hrd that there's a park near adventise hospital which allows dog..not sure exactly where..will find out this weekend n let you know



---

View my blog in Sasha's Blog and don't forget to sign my guestbook!

They are not 'Just a Dog'
They are my FAMILY!!!


Sasha, Sze Ern N Sheena