vivienpui
New User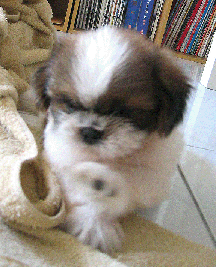 Jun 15, 2005, 7:48 PM

Post #5 of 7 (1305 views)
Shortcut

Re: [kwtum] shihtzu pee problems [In reply to]
Can't Post

---
Hi Kwtum,

We are in the same situation like you too, just start keeping a shitzu puppy. Since he came into our house into our life, our life turn upside down just because, you know what.... p here drop boom there.We are quite frustrated and something beat him (very lightly cos he is cutie), after one week of intensive training, included my wife took a two days off to stay fulltime with over him. now he is improving abit by bit. sometime he manage to pee on newspaper something simpily pee.

one of the effective method is not to beat him, he is 2 months old but act like a rebellion teenager. Everytime we scolded him, he tend to bark back, same with the pee problem, ask him tenderly, talk soft to him...

Also its important to get a anti-bacteria spray to spray some on the pee area. to kill the smell to prevent he pee there again, but becarefull of the chemical might cause ill to the puppy. take him away when doing the spraying. Not sure what is proper spray to get but should you consult petshops I guess.

It really take time and effort to train the puppy. Be Patient and be Passion, thats all I can say. Good Luck to you and us!!!

Cheer up !!