nicky_spykeaz
Doggyman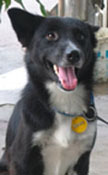 Mar 13, 2005, 6:07 PM

Post #31 of 43 (1992 views)
Shortcut

Re: [Tiggykoh] Lost Dog in Petaling Jaya [In reply to]
Can't Post

---
hi, I think i can answer your question about ebony or i mena update you..
Do you remember Pipimom from the earlier post on you r tiggy, the lady who told us about your might be tiggy at paws??
She is keeping ebony now. Ebony now is living with her and other dog of her by the name brownie..I manage to get to see ebony and brownie about 3 weeks ago and she is doing fine..in fact she is strong..so no worry on ebony..she is in a good hand..
Dont force yourself in getting another dog if situation doesnt allow..like me i have my dog to play with others dog during the weekend because since i lose one dog 2 months ago, i didint get a new one..so i afraid that he is lonely, i took him to play with my neighbour and friends dog when i am free. But the most important is that u try to spend quite amount a time with tiffany..she wont feel that lose if some one is always be by her side to go thru this lost...so be strong and do chat with u more in the future...take care and have a nice day

Cheers ya,

Nicki the Devil live by the reputation of the name



boBby is a craz3 car PassaNger
Fat FaT other case Elegant Car GuEst
What make Me?
A LoYal huMan Driver....



NoBody is Prefect, Guess What i am Nobody
Nice to meet YOu

(Bobby+Nicky craze JT memBer)

BoBby San DogstEr
http://www.dogster.com/?158414
http://spykeaz-devil.blogspot.com/