mieliki
Dog Kichi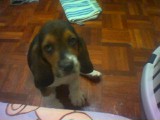 Jul 16, 2004, 2:54 PM

Post #3 of 4 (2224 views)
Shortcut

Re: [doodle] barking and biting hound [In reply to]
Can't Post

---
Hi doodle,

My Basset hound does the same.. runs around and barks and jump at people's pants.. So far whenever she does that, I just pretend to ignore her until she settles down and then flips her on her back and give her a vigourous tummy rub.. after several times repeatitively.. she seems to quieten down quite a fair bit..

As for the vomiting after meal.. did you happen to overfeed her? Guccie does that when she's VERY overfed.. She'll just puke some out and then verey disgustingly wallop the whole lot back in..

Eversince that happened a few times, I've been reducing the amount she eats.. but increased the frequency so that the total amount still adds up to the samee..



Hope that helps..