RealityDreamer
Doggyman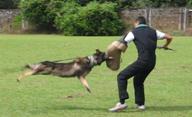 Jun 28, 2004, 7:50 AM

Post #24 of 48 (18403 views)
Shortcut

Hello,



We all over dogs here.



1) There are a few reasons as to why it smells. Generally,it's somekind of infection. Sometimes,yeast,bacteria...etc. What causes it,is a damp ear which cannot dry out. In your case, an acs has really long flappy ears..so it can really dry coz the flaps are covering the ears. When bathing,try not to get any water at all into the ear. After the bath,do dry it.

2) Well,I *think*(I'm not too sure) a smell will always be there. It might not be *the* smell that you're having now. A healthy dog's ears do hv a smell but it's not as strong and it's not as bad. Whenevr something smell's bad on your dog,there's something wrong internally. The smell is just a side effect. In this case,I think it could be an infection in the ear.

Thankfully,there are quite a variety of ear cleaning products in the market. You can try to clean ur dogs ears with them. Best cure is prevention though. Once cleared,don't forget to to clean and dry your dogs ears consistently.

All the best.



,-._,-.
\/)"(\/
(_o_)