shlee
Doggyman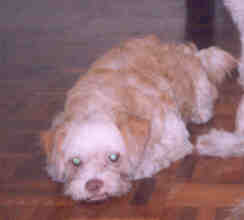 Apr 15, 2004, 4:32 PM

Post #8 of 16 (2468 views)
Shortcut

Re: [rocz] Collie(25%)GR(25%)Mongrel(50%) MIX [In reply to]
Can't Post

---
They are really cute! Do u have more photo to show me?

In fact, last time one of my friend also wanted to give away his Golden Retriever puppies to me, but they are from Sg. Then just few weeks ago, i went to Sg to visit my friend. His neighbour got one 3 yrs old Maltese, which is very very cute and adorable. The neighbour felt that i'm a crazy dog lover and thus wanted to give away his dog to me also coz she planned to travel overseas.

However.....i could't adopt them! They are all from Sg and how can i bring them back to M'sia?



Btw, i also already got 4 doggies with me now




*****Pls help to look for my MiMi (refer to my avatar for her pic)*****
*****MiMi, where are you now? I miss you.....*****