amandawong
Dog Kichi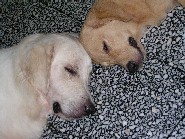 Feb 11, 2004, 8:03 PM

Post #1 of 3 (1008 views)
Shortcut

Cucumber refused to eat at night
Can't Post

---
Hi All,

I have this problem with cucumber - 11months old GR (slightly fat). hehe.. ok... recently he refuses to eat at night no matter what we cook for him. Eg: chick, porky or lamb with vege and kibbles. He will just come & look at the bowl... not even smell.. look at us and walk off. Last time, my bf will bring the bowl to him and hand feed him... i got so pissed off.. made him so pamper... now, we dont hand feed him anymore at night. As for morning, he is given raw chick to eat. He is hand feed for this bones and chick. comes at night, he refuses to eat from his own bowl. I have come to this possibilities:-

1) He is fussy with food (but its the same food - cooked and uncooked only)

2) He is not hungry during night time?

3) He is pamper - someone have to feed him else he dont wanna eat- he just come and look at the bowl!!

4) This is the worst part - he is sick? - but he eats in the morning.

What should i do? Should i starve him? like morning food also placed into the bowl and night also the same thing, if he doesnt want to eat.. just take the food away and starve him. He refuses to eat at night for 3 nights!