garychong
Novice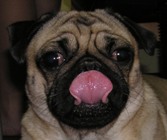 Feb 6, 2004, 5:27 PM

Post #4 of 6 (1425 views)
Shortcut

Hello ai_ney, thanks for the reply. the vet did ask some question (I guess its their standard procedure) about the food and the environment. the vet just told me to apply the antiseptic and monitor for a week, if the spot spread then bring my puppy back for check up.

during the check up the vet found a tick on its leg and she said, the red spot could due to the tick bite. She didn't take a scrap of the area to check, blood test or given any med... only the pink antiseptic. anyway, thats the one in subang parade and the vet is quite young... junior vet perhaps?

thanks, and i will check out the pug thread!