icezcream
Ultra ALPHA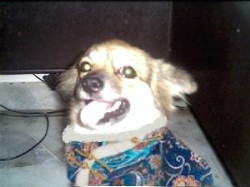 Jan 14, 2004, 9:53 AM

Post #11 of 72 (5041 views)
Shortcut

Re: [cockercinta,nat.shlee,timchan,kesuke,rebooto,melissa,shyeow2] HELP!!I lost my dog [In reply to]
Can't Post

---
hi all,

i wish i have good news to deliver but megan remain missing. searched everywhere. none of the ppl i interviewed saw her. pretty impossible rite? how could they missed a white dog with lots of black poka dots?? tried every single method possible. if you have any tips on how to find a missing dog, please do share with me.

nyway,thank you for all the advices, encouragement and prayers. so far, no dead dog on the road yet, so i'm assuming she's still alive somewhere. i'm not going to give up so easily..thank you. will update u guys soon.

-= There are no bad breeds, just bad breeding=-

Got Dalmatian??Click Here..
Got Mixed Breed??Click here...