shlee
Doggyman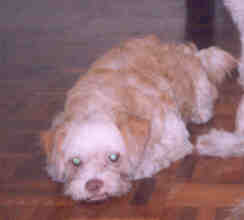 Dec 12, 2003, 6:55 PM

Post #18 of 83 (5459 views)
Shortcut

Re: [nancy] HELP!MY ROTTWEILLER IS STOLEN IN KLANG!! [In reply to]
Can't Post

---
Hi Nancy,

I like to talk with u also, becoz u understand my feeling. Not like my friends, they also discourage me to continue, they said MiMi is only a pet. They dun understand how much i love her...

Of course, both of us cannot give up. Becoz nobody knows what will happen in the future. If u keep looking, then u r still standing a chance to get back ur baby. But if u give up, then it's 0% of getting back ur baby.

Luckily, my family didn't stop me to do so, becoz they love MiMi also. My mum just told me yesterday that she will think of MiMi whenever she is free and sleepless at night. All of us are missing MiMi very much!!




I lost also sometimes, becoz i still couldn't hear anything about MiMi after so many possible ways i have tried. But lost doesn't mean to give up, right? I will still keep looking for MiMi, and refresh all the flyers from time to time. I want to remind everyone that i still haven't got my MiMi back, so they can continue keeping their eye for my MiMi.

I will feel better when doing something for MiMi. It's better than doing nothing...

Oh ya, i just went to SS2 Pasar Malam last night, but nobody was selling dogs...




*****Pls help to look for my MiMi (refer to my avatar for her pic)*****
*****MiMi, where are you now? I miss you.....*****