shlee
Doggyman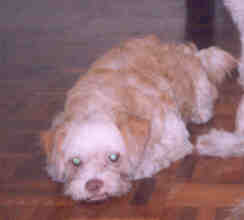 Apr 8, 2004, 5:18 PM


Views: 9846

Re: [szewei] "Finding MiMi". Pls help!! I miss her deeply...

---
Hi,

Thanks for your concern about my MiMi. It has been 4 mths plus already, but i still couldn't forget every moment that we have spent together before. U know what, i just dream of her last night. I was playing with her in the dream, i hug her and kiss her. I was so happy, i thought she is already back to my arm, but after i woke up.....i realise that my dream hasn't come true yet



But of course i have calmed down myself a lot now, not as crazy as before. My heart was taken away at the moment that she was stolen away! MiMi is very special to me if compared to my other dogs. Normally, my dogs are only attached to my mum, coz i'm not always at home. But MiMi is different, she is very attached to me since she's born. She borns at my house. She likes to follow me to wherever i go, even to toilet

This is why i love her so much. She is exactly like my own baby.....

MiMi is only a mixed terrier. I always wondered why they wanted to steal her away?!!!!! I don't think she can be resold for a good value, some more she was already 10 mths old when being stolen! Normally, people like to steal pure breed puppy, right?

Sorry for ur friend. I understand how did she feel. I had done the same thing.....advertised it in newspapers and also offerred RM1K reward. But in return, i still couldn't find my MiMi



I felt angry about ur another friend!

Sorry to say about it.....he can't understand the dog's owner feeling. When a person is willing to spend some money for the advertisement, it already showed how desparate the owner is for looking their missing dog. He should return the dog to the rightful owner! If somebody can return MiMi to me, i'm willing to buy a pure breed dog to them as a reward if he or she is a dog lover too. I'm just willing to do whatever i could to get back my MiMi.

Let me know if u still couldn't open my pic. I can send the pic to ur email add if convenient.

I wish u can keep an eye for my MiMi too. Who knows, u r my lucky star to get back my MiMi. Thanks.




*****Pls help to look for my MiMi (refer to my avatar for her pic)*****
*****MiMi, where are you now? I miss you.....*****