liz.1106
Novice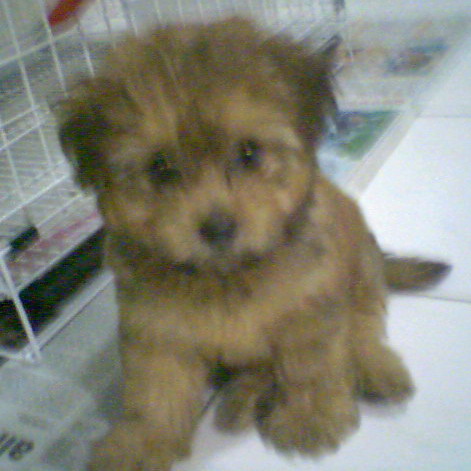 Jul 7, 2006, 6:58 AM


Views: 2008

Re: [jessicaohh] Coronavirus vs. Parvo (can the vet be the place the dog gets it?)

---
Hi Jessica, thanks for your reply and so sorry to hear about your first puppy.... lucky the pet shop can exchange another one for you though. Sometimes they might deny responsibility one.

Well, I'm starting to think that it's better to lock the puppy up at home and not take it anywhere as there's so many cases of diseases and illnesses now. Ever heard the virus that can be contracted even when the dogs are not even near each other? Supposedly it can be contagious up to 100m away! Err..I dunno if i'm allowed to mention the vet's location or not in here, might invoke some pretty angry responses, but i guess I should share my thoughts and experience, after all it's always better to learn from other ppl's mistake rather than making your own.

The vet I took FURBY to at first was located somewhere in between USM and Tmn. Lip Sin...and the hospitalized one was a corner house at a main road between Gurney Drive and Youth Park....is that specific enough for you? I'm not saying that I hold the vet responsible, but i'm just saying that accidents do happen and the vet has got a helper in the room who cleans up after a dog leaves, but how sure are we that it's 100% clean? We will never know I guess. Just to tell u though, there's always a risk involved when going to any vet, or perhaps leaving your puppy/dog with a boarder or just to a groomer to bathe your little furball. I think it's just the dog's luck...i see many other dogs who are still alive and well even after going to the first vet i mentioned. My sister's dogs went there just a day before mine did and they are fine.

After the 2nd jab, he was a bit quiet and inactive but i think he was sore especially at the area where the needle went in. The next day however.....SO ACTIVE like 5 times the normal days, and normal days he was already running here and there like mad. Crazy doggy...he was still very very hyper up to the time he started vomiting 5 days after the 2nd jab.

Dunno lah, the personal thermometer was just an idea I had that minimizes risks, for example sharing needles between patients might lead to AIDS right, so they then used disposable needles. Why can't they have the same concept here? But the thermometer I saw the vet used was the normal one that is battery operated with digital display. Like human one lah, can get from any pharmacy. If i were to have another dog, i don't mind getting a new thermometer everytime it goes for a visit to the vet...after all how many times a year only? But still there are so many other ways the dog can still be infected by sumthing, like i said loh, it's the luck of the dog, mostly.

It's just that the vet didn't even suspect it was a viral infection, if not Furby could have been admitted for observation or put on drip or something earlier. Even if cannot cure, at least we have the choice to put it to sleep so that it wouldn't suffer so much. On the morning of the day he died, i carried him and told him we were not giving him up, but we were so worried we wanted him to have professional help 24-7 at least until he's able to eat on his own. we promised to visit him twice a day even during work so that he wouldn't think that we don't love him anymore. He was looking up into my eyes as if he was trying to tell me sumthing and was whimpering softly, like in pain. when i went to see him after he just died, i saw a lot of blood around his butt and tail and can smell the blood immediately after i opened the door to the room he was in. For such a small puppy about 0.86kg, he must have been suffering like hell, and to think that if we knew it was a viral infection and it wasn't likely that he'll survive, we could have spared him the pain earlier. The change was too drastic and too fast. We were unprepared for it and the worst thing is that there were no vets open at night. I tried calling a few during the first day itself but no one picked up. So, I had to wait until the next morning. I think this is a problem a lot of dog owners are facing. especially first timers. Can panic one u know?

Anyway, i called up the pet shop where i got him and the first vet's office to tell them that Furby died due to viral infection so that they can be extra careful and keep an eye on the dogs who were at the vet the same time I brought Furby there for consultation. The vet's office just said "Oh, we always clean thoroughly one, we know what to do one, don't worry lah" I'm thinking, "yeah right!" So good luck to you, and i read in one of the threads here that Parvo virus can survive up to 6 months or more even after cleaning the infected areas thoroughly and carefully. Hope your new puppy will be lucky though. and there's really nothing much u can do except to hope nothing happens to it.

Cheers!