shlee
Doggyman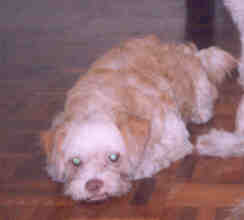 Mar 13, 2004, 6:18 PM

Post #140 of 286 (10366 views)
Shortcut

Re: [lovedoggies] "Finding MiMi". Pls help!! I miss her deeply... [In reply to]
Can't Post

---
I'm a IT buyer. Buying those IT equipment like PC, printer, projector, notebook, cisco network, Sun & HP server, and all IT related project. I can say that i'm in the support team for DiGi lor.....




Aiya, sometimes i also can't believe that i'm going to 30 yrs old soon. Becoz i'm the youngest in my family, so i always thought that i'm still very young, and in fact i'm also looked much younger than my real age, kekeke.....



Good good, got another one month to graduate. Then u will be busy for working. Maybe u won't have much time for ur doggie liao.....




*****Pls help to look for my MiMi (refer to my avatar for her pic)*****
*****MiMi, where are you now? I miss you.....*****