shlee
Doggyman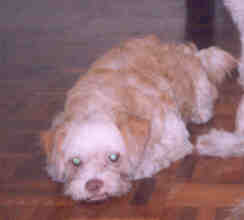 Mar 6, 2004, 3:18 AM

Post #114 of 286 (11196 views)
Shortcut

Re: [lovedoggies] "Finding MiMi". Pls help!! I miss her deeply... [In reply to]
Can't Post

---
The only solution is getting another new pup for both of your Benji and Rex. Thus, they will be ok and got another friend if either one of them has gone earlier. I think you have to seriously think of that. Just to prevent anything happened if either one of your doggie has gone first.

One of my former doggie has passed away within just one month after my another doggie has passed away. I don't know the reason. But i guess it might becoz she was too sad also. This doggie is very active, likes to make friends around. Thus, when she is only alone, she will look sad.



U r not gila! U just love ur doggie too much, like what i and my mum did. U know what, my mum also always emphasize that she won't bias to anyone of our doggie. When she feeds them something to eat, she will make sure everyone got the same portion. She said doggie got feeling too, so we cannot tend to bias for them.



If nobody take care of them in the car, of course they will jump here and there for kepoji. Just can't be quiet!




*****Pls help to look for my MiMi (refer to my avatar for her pic)*****
*****MiMi, where are you now? I miss you.....*****