shlee
Doggyman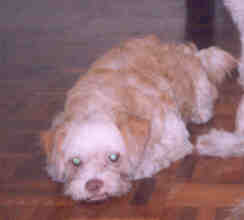 Oct 11, 2004, 4:30 PM

Post #241 of 286 (6673 views)
Shortcut

Re: [lovedoggies] "Finding MiMi". Pls help!! I miss her deeply... [In reply to]
Can't Post

---
Yes, i speak with my vet in Chinese. I'm a Chinese mah.....more easy to communicate with our own dialek. Or else, sometimes i don't know how to explain to the vet about my dog's problem. Anyway, he is good in other dialek or language too. U can speak with him either in English or Cantonese. There is another vet there can speak well in Hokkien. Sometimes it's hard to find a Chinese vet, don't u think so?



Few days ago, i met a dog look like my MiMi. But at that time i was rushing to work, so didn't check out the dog properly. Then, every morning, i tried to passed by the house and tried to see the dog again, but fail! The dog didn't come out.

This morning the dog came out again, but.....the dog is not my MiMi

But he/she is very cute too



Sigh.....my wedding is one more month later. Seem like it's hard to get back my MiMi before my wedding and let her to attend my wedding together.....




*****Pls help to look for my MiMi (refer to my avatar for her pic)*****
*****MiMi, where are you now? I miss you.....*****