RealityDreamer
Doggyman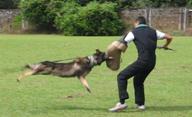 Aug 9, 2003, 7:25 PM

Post #43 of 49 (1322 views)
Shortcut

Re: [jaz] What brand of shampoo do you use on your dog? [In reply to]
Can't Post

---
mine doesn't take as long as jaz jaz..imagine all that fur! somemore so long and silky..

i think if i got a silky, i'll probably have it in his full coat once in a while..the rest of the time,have to trim



Silky has a medium coat-long coat..it's ok..not very hard to take care of it..bathe once a week,groom twice..etc. Tyson lagi senang,in terms of coat wise..but because of his atitude towards showers.......



hehe..i don't know why ler...maybe i'm weird or something, i like that "doggie odour" once in a while.smells natural

the long coated dog's doggie odour la..not the short coated ones..
,-._,-.
\/)"(\/
(_o_)