RealityDreamer
Doggyman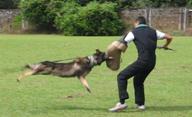 Jul 22, 2003, 8:05 PM

Post #179 of 614 (2611 views)
Shortcut

just a small suggestion for the games for the puppies..maybe having a doggy race.

1 person will stand at the starting line while holding the puppy,the owner will be at the end of the race. When the whistle goes,the first person will let the dog go and owners can start encouraging and calling their dogs. The first dog who reaches his owner wins.

Since there are quite a number of different dogs with different smells..it might be a little difficult to get them to come..and also no food or toys are allowed...hehe..to make it a little challenging.

It's more suitable for puppies though.



not sure if this has already been suggested(too many posts..can't keep up

) if it has..just ignore it
,-._,-.
\/)"(\/
(_o_)



(This post was edited by RealityDreamer on Jul 22, 2003, 8:18 PM)